Release 93 - Member Statistics for Organizations
As laid out in our roadmap for 2021 our focus for the last quarter of the year lies with providing concise statistic tools for companies using SkillDisplay. This time we look at the new member statistics feature, which is available as of Nov 19th 2021.
While verification statistics with organization focus are already available (https://skilldisplay.atlassian.net/servicedesk/customer/portal/2/article/1611726849), December will bring statistic tools for organization member insights. Let's have a look.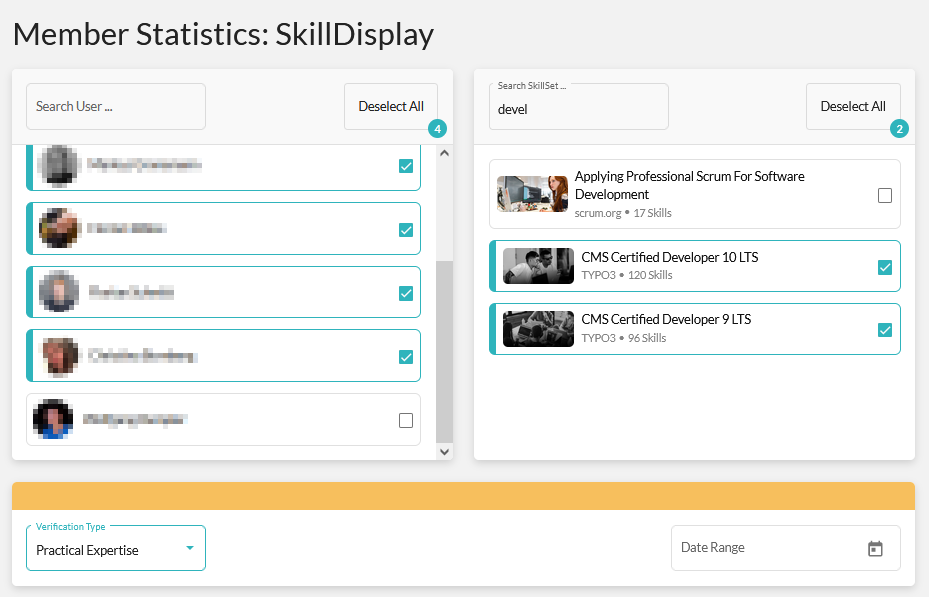 Member statistics combine selection and filtering for members and Skillsets via free text search. Selected colleagues and SkillSets will be analyzed for Skill coverage, even further filtered by verification type and date of verification. This combination allows for a broad overview and further drilling down to research on specific crucial SkillSets for selected colleagues or teams within your company.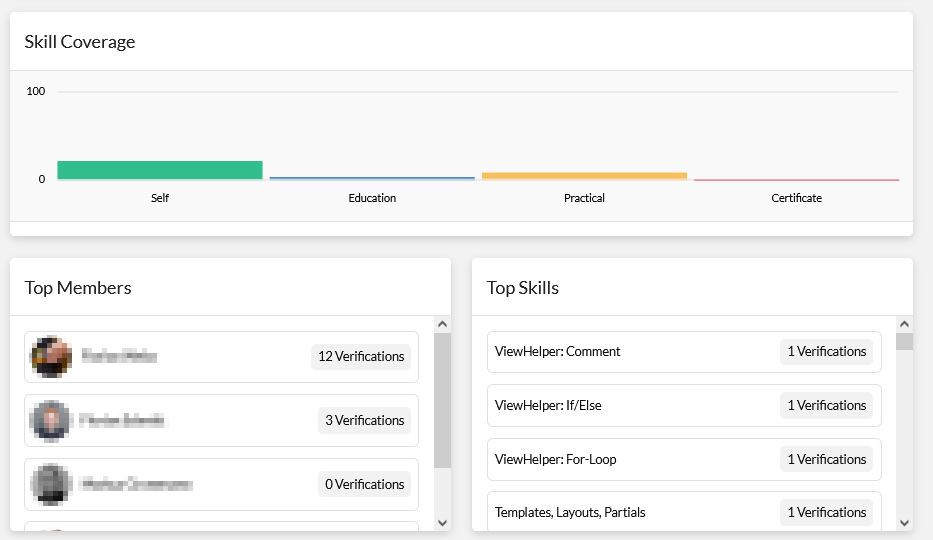 Skill coverage visualizes how prevalent verifications of each type are for the selected Skillsets among the selected team members. If all four selected members self-assessed all 20 Skills of the selected Skillsets, then there will be 100% skill coverage for that verification type.
Below you can find members and Skills each ranked by number of verifications for the selected result set.
So, if you want to match candidates for specific Skillsets, get an overview on verification and certification coverage of your team, or just want to look out for skill shortages among your colleagues, this is where you will find out from December onwards.
Further visualizations are being developed as well, so watch out for our next preview.
You can access the new organization member statistics feature right now by clicking "Manage" and then "View Member Statistics" inside the "Statistics" card.
---
Changelog Release 93
Features
Introduce organization member statistics
Bugfixes
Pulled up logout button on mobile devices to ensure visibility
Fix error in verification detail view which could occur if you were a verifier looking at your own Self-Assessments