Release 98 - Highlighting the next step in your learning journey
Spot your personal benefit from a resource instantly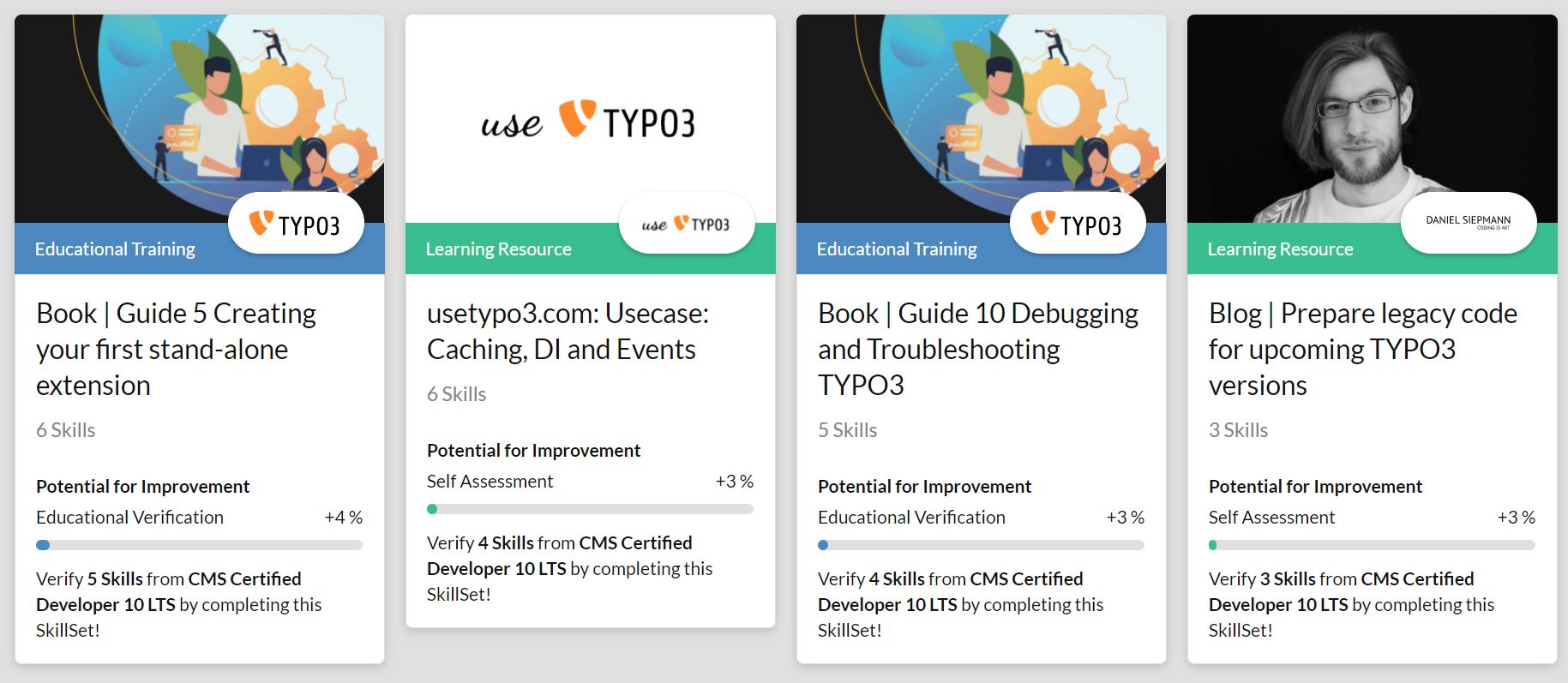 The SkillSet view features a dedicated area for suggested learning resources and educational training. This however is not a general recommendation, but tailored exactly to your own needs and current skill portfolio. In order to help you spotting the development potential of your own skills with the presented resources even better, we have overhauled the presentation of the suggested SkillSets.
They now feature:
SkillSet name (e.g.: "Book | Becoming a chef in 40 days")
Number of Skills which you'll be able to obtain with the resource (e.g.: 12 Skills)
Potential for personal improvement (e.g.: You are in a rookie program for becoming a chef. How many skills that you need in this program can you learn with the help of the book)

as percentage (e.g.: 4 %)
as absolute number of skills (e.g.: 5 skills)
This allows you to easily weigh your options before committing to a learning resource. A specific book (indicated in blue) can help you to obtain 5 new skills? Might be worth the purchase. A free learning resource (indicated in green) helps you out learning 2 other skills you need? It's just one click away.
Do you have a learning resource or training which you want to list on SkillDisplay? Find out how to
Publishing (and re-hiding) your profile is easier than ever

Are you content with showing your skills or currently in an application process to get a new job? The profile settings help you to promote your abilities effortlessly. You can publish your own profile and according skills with the flick of a (digital) switch and easily copy the URL of your profile for sharing.
(By default your SkillDisplay profile is non-public)
---
Changelog Release 98
Features
Introduce new look for suggested SkillSets
Introduce dedicated card for switching the own profile public/private
Improve notification system styling
Member statistics can now make full use of bigger screens
Fixes
Fix input fields showing red warning indicators although the password was changed successfully
Fix footer information in mails