SkillDisplay as a learning and teaching aid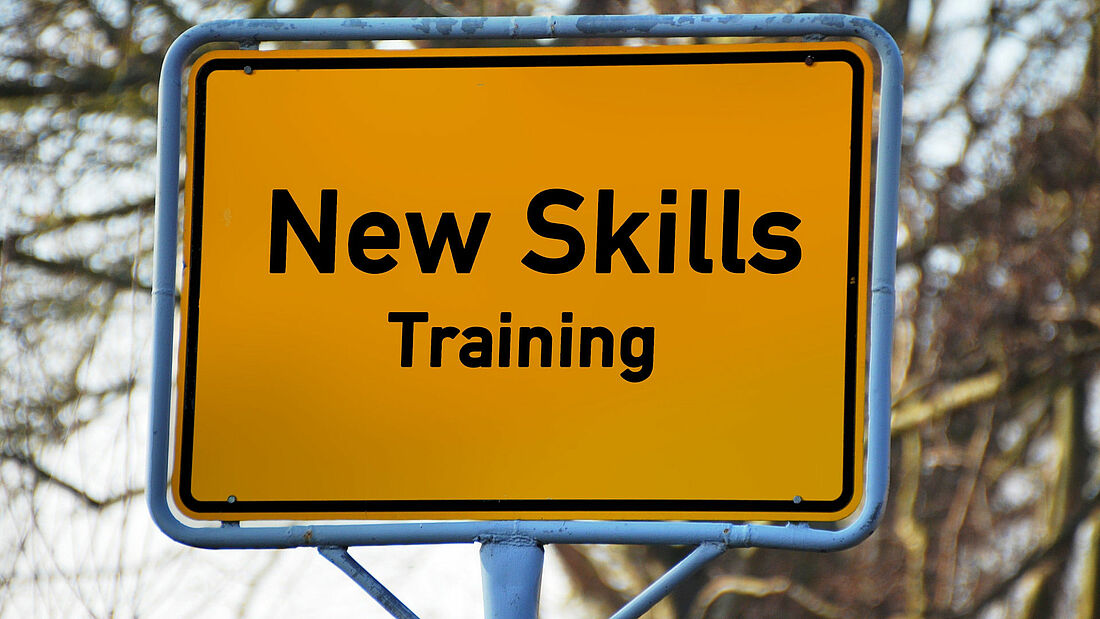 In March 2019, the COVID-19 pandemic hit many countries in the world unprepared - the population was confronted with curfews, compulsory masks, home office and e-learning within a few days and no stone, it seemed, remained on top of the other.
In the field of education, traditional classroom or lecture hall teaching suddenly had to be shifted completely to the Internet. Despite numerous efforts, this changeover was also associated with problems of a technical and social nature, especially when e-learning and distance learning had previously played no role in the lives of teachers or students. Especially pupils who were about to take their final exams or continue on to a higher education were struggling with problems and uncertainties.
At least for those who want to deal with web technologies now or in the future, SkillDisplay can be a help here, as we already discussed in a short blog post on TYPO3.org.
But today we want to take a look at three cases in practice and see how SkillDisplay can help in these cases:
Stefanie is 14 years young and will be attending an HTL (secondary technical school) with a focus on information technology starting this fall; she has already gained first experiences with web design and development in the last two years in the context of a computer science elective
Martin is 19 and will complete his five-year education at a commercial academy this year, after which he would like to study media informatics at a technical university; he has good user knowledge and is generally IT-affine, but has no experience with web development, programming and design
Katrin mainly teaches physics and German in a new secondary school in Lower Austria, since last year she has also been teaching Digital Basic Education, which is intended to teach pupils the basics of digitisation and media education.
Preparation for the transition to higher technical education, completion of the current school year
Stefanie registers with SkillDisplay, a platform that the teacher of the elective subject computer science class once mentioned. Thanks to the simply designed interface she quickly finds her way around and decides to start with the current SkillTree for the TYPO3 Editor based on TYPO3 9 LTS. Since she already has some previous knowledge, she can quickly navigate through the module and soon the first feelings of success appear. She starts to research independently about accessibility and SEO and to think about how blind people actually navigate through the internet and which possibilities there are for web developers to make the surfing experience easier for them. She also uses the structure of the SkillTree as a basis for a presentation on Content Management Systems, which she will give in the elective instead of the actually planned semester project (which probably cannot be completed due to the current circumstances). She also decides to talk to her teacher about the possibilities to try out TYPO3 in practice, and decides to check out the other skill trees to learn about some other new things.
Preparation for a university education
Martin is frustrated because the school year was interrupted so abruptly. Video conferencing is not his thing and he is rather bored and underchallenged - the teachers give only very sparse assignments and also the topic of the Matura (A-levels) hangs like a dark cloud over his head. On top of that, the planned Matura trip with his friends will probably also fall victim to the pandemic. So he tries to use the time at home in a reasonable way and finds SkillDisplay, a platform that promises to teach him skills that might be useful for him later on. He has already heard of content management systems, but hasn't worked with them yet. Anyway, TYPO3 seems to be widely used and the SkillTrees are logically structured so that he can easily move from one skill to another. He has heard of some of the used terms before, others are new to him and he digs into the topic and feels that a certain enthusiasm is building up. He also decides to watch some YouTube videos and reads more tutorials on the topic. Just one week later he already managed to install a TYPO3 instance on his PC and is tinkering with it. He will use his free time in summer and besides the still pending civil service to get further acquainted with the topic and prepare for his first TYPO3 certification with the help of SkillDisplay.
SkillDisplay for teachers
Katrin is confronted with a new situation - the two groups she teaches in Digital Basic Education suddenly have to follow her via chat and video conference. On the one hand, this is of course consistent, after all, her pupils experience digitisation first-hand, but no real motivation is shown. In her search for teaching materials for distance learning, she comes across SkillDisplay and quickly discovers that the structure of individual SkillTrees is also suitable for building up teaching units. Although her students are not yet supposed to learn how to use a CMS, the basic skills and knowledge required to use a CMS are in line with the current curriculum requirements. Operating a browser, data protection and the right to one's own image, the choice of a secure password, different media types, the preparation of data in a CSV file or the functionality of and optimization for search engines are topics that they will deal with in more detail in the coming weeks. She starts by working out suitable documents, and the links on SkillDisplay are a great starting point. She also writes to the operators of SkillDisplay and asks if there is any possibility of transferring some of the already existing skills to a new SkillTree for Digital Basic Education - then she could send her students and pupils directly to the platform so that they can learn at their own pace and demonstrate their skills themselves.
As we can see, SkillDisplay can help three very different people who are in different positions in the education system - maybe it can help you too?