Compliance is a topic that affects companies of all sizes. In this scenario, we examine how an organization announces and pursues mandatory compliance training for employees.
This includes
the definition of compliance areas with mandatory training across the entire company
the assignment of the relevant compliance areas to fields of activity in the company
the visualization of mandatory training for employees
the monitoring of completed training courses to identify gaps
Definition of mandatory training
In our company, we first want to look at the issues of venality, privacy, IT security and money laundering. In order to be able to start quickly, we are currently focusing on a 1:1 mapping and creating one skill per training course in our company. We can break down these individual skills into sub-areas at a later point in time and automatically credit existing training verifications from our employees. This guarantees that, on the one hand, we can go live quickly and, on the other hand, that we can expand our skill structure in an ongoing process.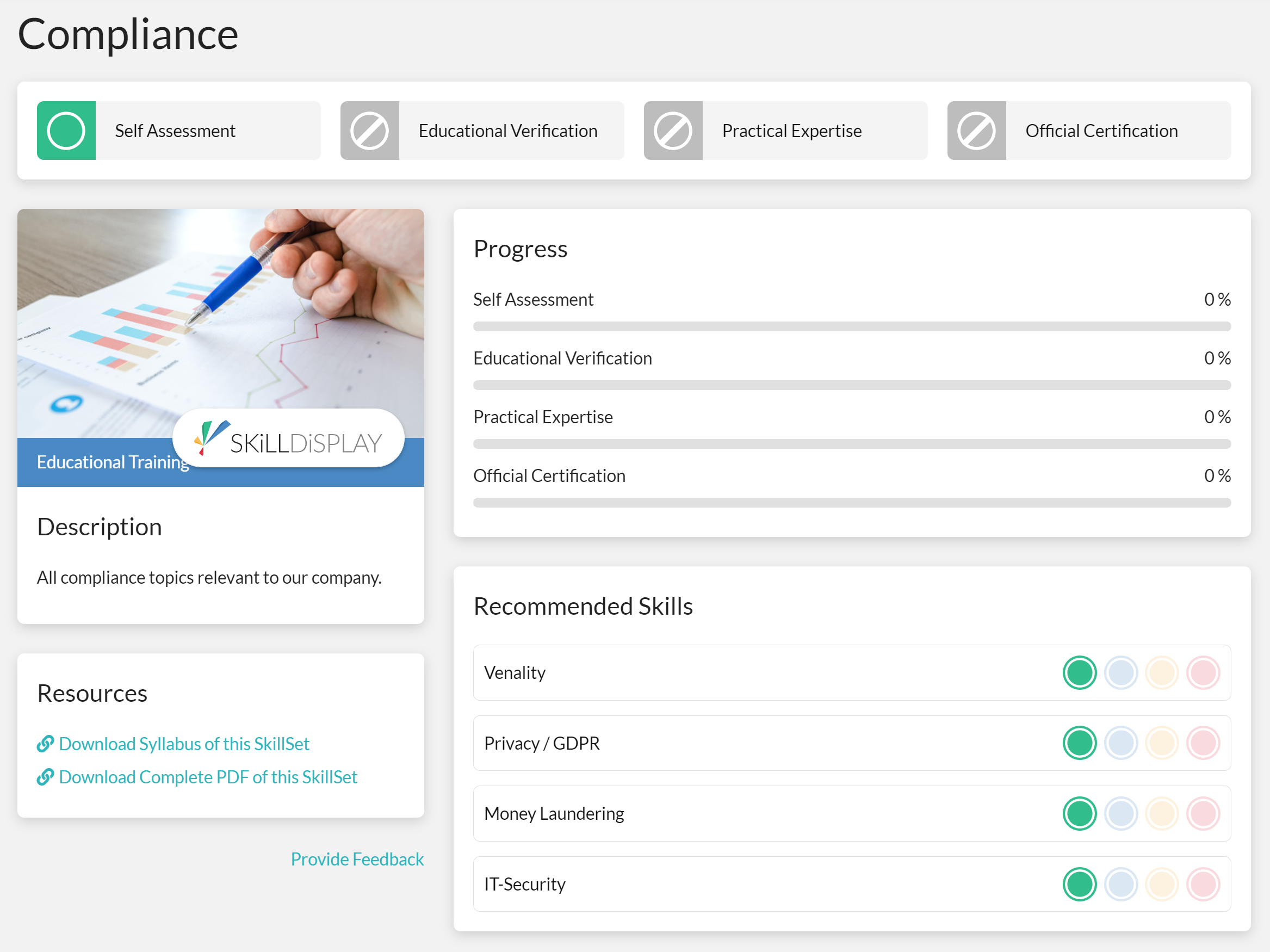 Assignment of training content to departments
Not all compliance training courses are relevant for all employees. While training on money laundering and venality is a must in purchasing, we see data protection and IT security as the main topics in the IT area. So we define the following positions as SkillSets:
Purchasing: venality, money laundering, data protection
IT: data protection, IT security
Point of sale (in our outlets): data protection
Employees can now immediately identify the necessary training areas for their department and their own training progress with the list view.

Identifying necessary training and reporting training success
Let's now look at identifying and completing mandatory training from the perspective of an employee working in the purchasing department - Lina Levens. She selects her own department and can immediately identify the three topics relevant to her. She would first like to deal with the topic of "money laundering" and switches to the individual skill view.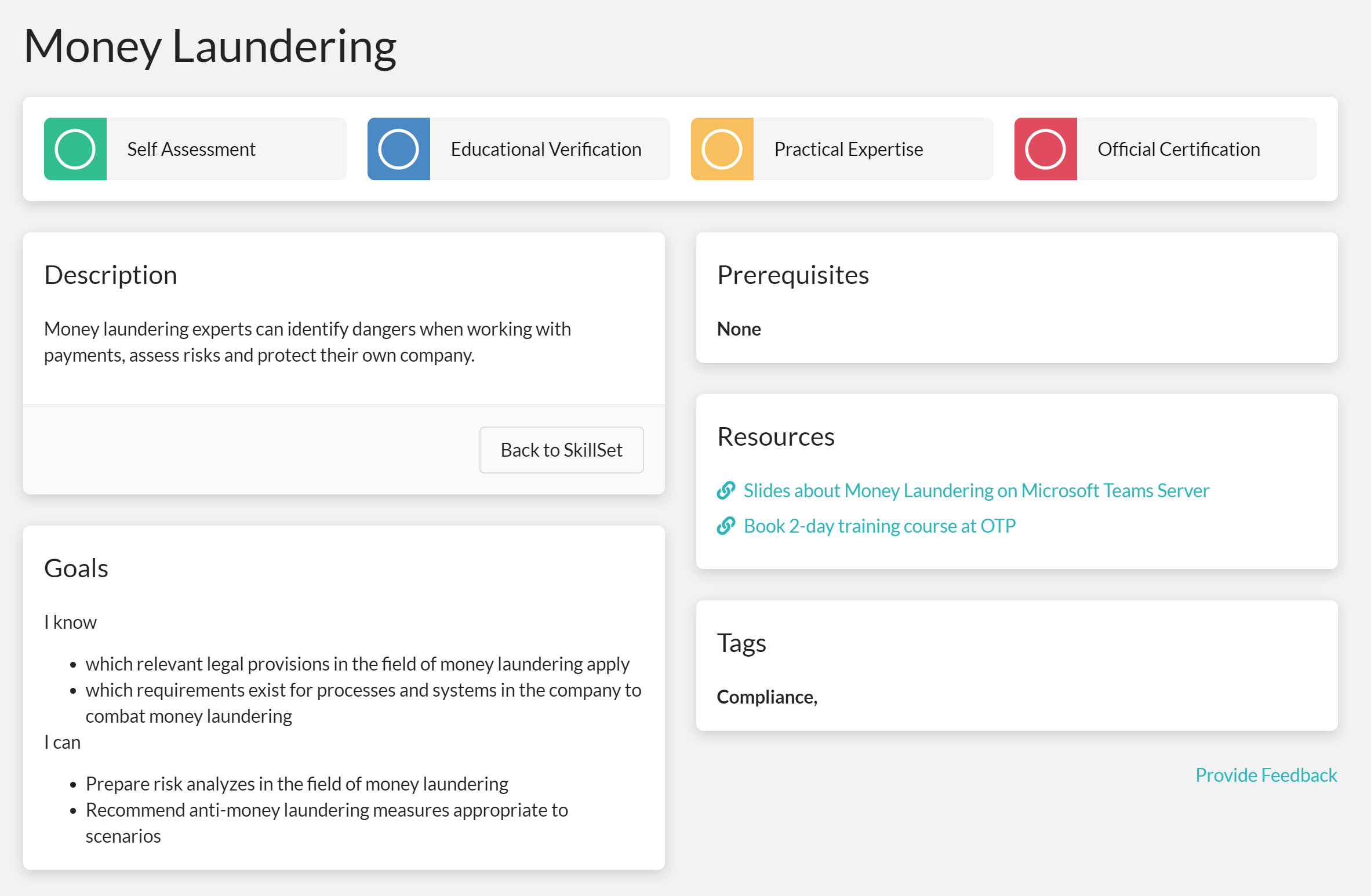 Our employee can immediately identify the learning objectives for the mandatory training in the "Goals" section and view the learning materials and courses recommended by us as a company in the "Resources" section. Lina decides to study the topic first on her own and to look through the slides we have provided. After she is sure that she has achieved the learning goals, she clicks on "Self-Assessment" and therefore communicates that she believes she has achieved the learning goals.
We are pleased that our employee is showing so much commitment, but we would also like to see what has been learned verified in a test. Lina can click on "Educational Verification" at any time and select our in-house testing system (e.g. a Moodle learning platform). She will be forwarded automatically and a successfully completed test will be recorded as "Educational Verification". If we would like a more personal way of confirming Lina's knowledge for another area, she can also simply select her trainer and the trainer can manually confirm Lina's participation.

Lina can now see her own progress - she has already successfully completed 33% of the mandatory training sessions.
Tracking training progress
As a company, we can view the overall progress of all employees using organizational statistics. We select our staff from the purchasing department and the SkillSets for "compliance in purchasing" and "compliance company-wide". Then we select "Educational Verification" to see who has already successfully passed the final tests of the modules.
We can see that Albert has already successfully completed all the training courses and, thanks to his departmental focus in purchasing, can also cover 75% of all required compliance topics throughout the company. Lina and Tanja first have to complete the training. However, the bar for "Self-Assessment" shows that they have already made further progress in their own studies and have only not yet taken the relevant final tests. (To view details for Self-Assessment we could switch the view from "Educational Verification" to "Self-Assessment")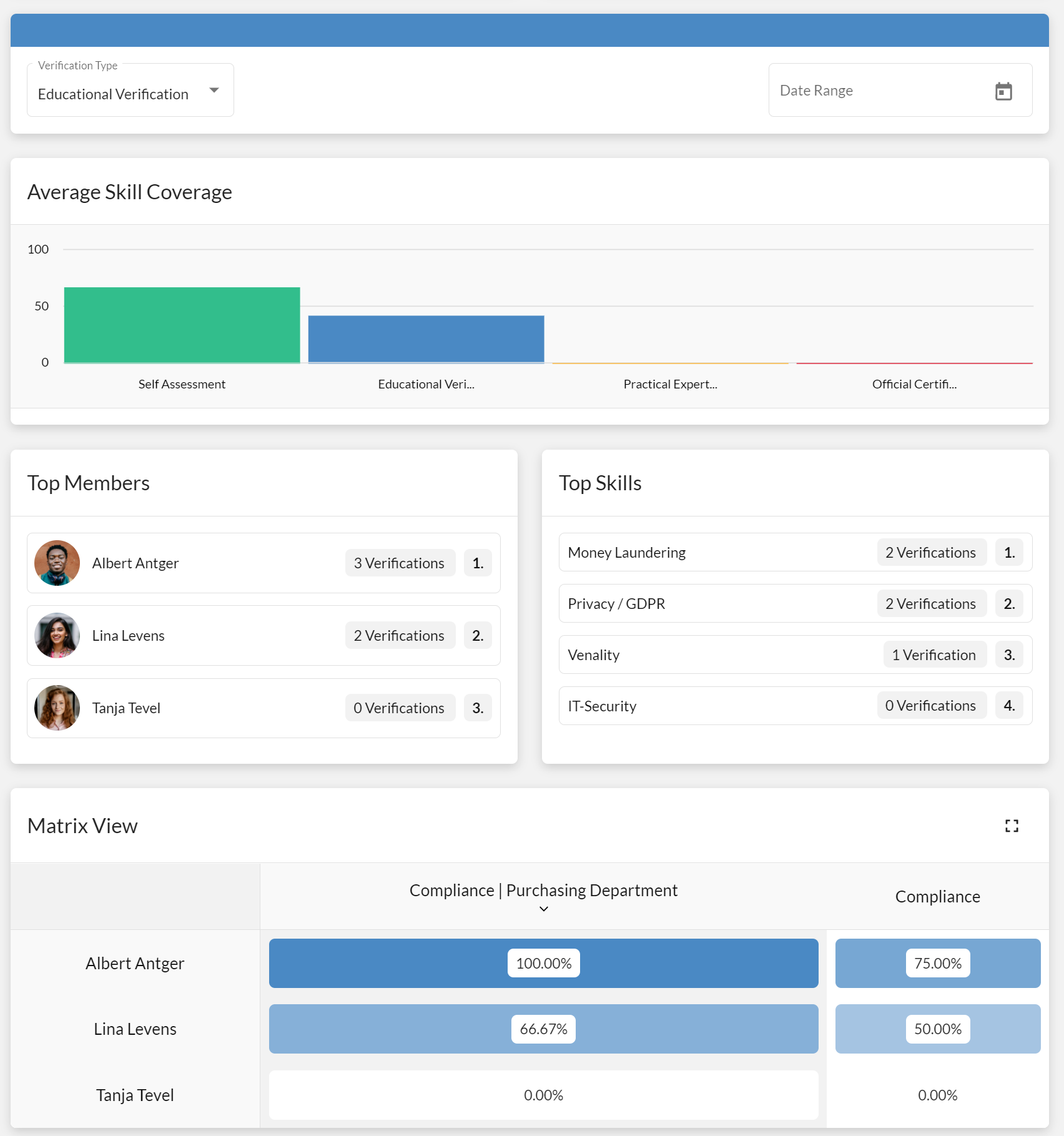 Company-wide and cross-system monitoring
We have created an environment in which we clearly present mandatory training courses for employees and find them as statistics in organizational administration in a very short time. Our existing systems and methods - such as personal training and learning platforms - were integrated seemlessly.
Based on the structure we created, we can now pursue advanced scenarios, such as capturing applied practical knowledge and certifications, automatically sending emails as reminders of necessary training, and more.